The School Board of GFW Public Schools met on Monday, March 20. Below is a summary of the meeting.
School and Community Recognition
For the March School and Community Recognition, the board highlighted the city council and administration teams from Gibbon and Winthrop who recently passed resolutions in support of the school district ahead of the upcoming referendum election. Members of local councils and city administration attended the meeting to accept the award. Leadership from Winthrop and Gibbon have a strong vision for the region including an exciting 2nd Street Project in Winthrop.
"While it was exciting to hear that their vision for the future was aligned with the vision of GFW Public Schools," said Superintendent Horton. "The constant theme that I heard more than anything else from their voices was the desire to come together, the desire to move forward together, and the desire to start healing as a community."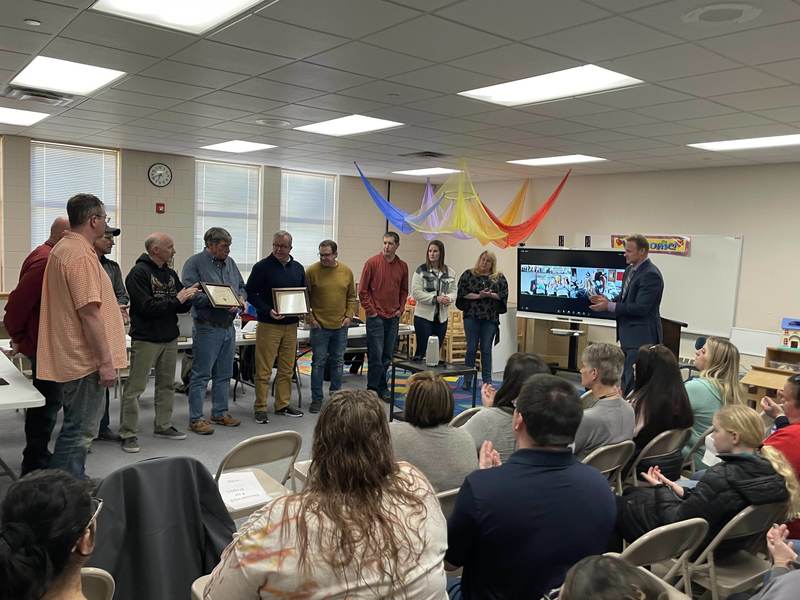 Thank you to the City of Winthrop and the City of Gibbon for passing resolutions to support the Continued Success of the GFW School System and support for a new PreK-12 Centrally Located School, respectively. GFW Public Schools is proud to be a part of each city's continued growth, well-being, and prosperity. Our cities and townships have supported our students and provided opportunities for our community to collaborate and continue our commitment to growing future world class leaders.
Public Comment
More than 30 members of the community addressed the board during the public comment portion of the board meeting. Topics included support for the upcoming dual immersion and increased Spanish language support, the April 11 building bond referendum, addressing building and facility issues, the strong scholarship program in the district, curriculum, and highlighting the opportunities provided by the schools. There was an extreme passion for the students of GFW Public Schools, the communities it serves and the region at large.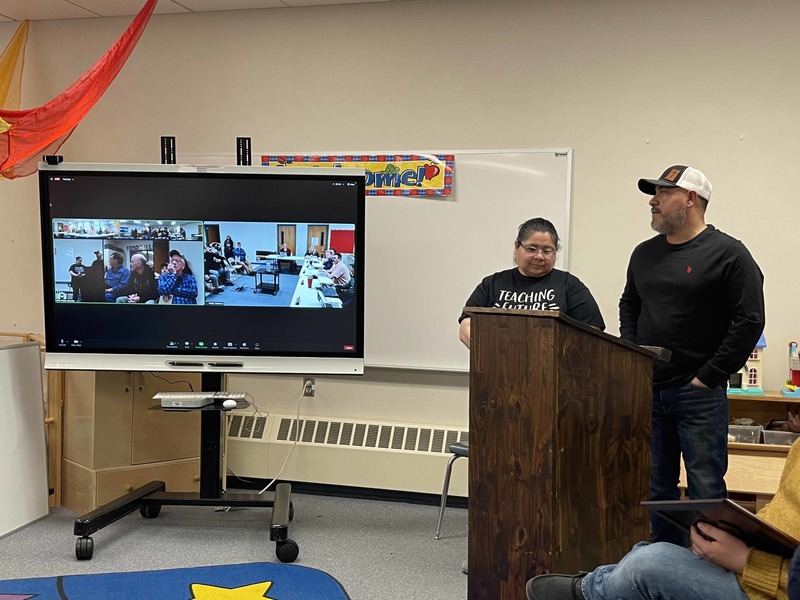 Speakers included parents, school and district staff, members of the business community, senior citizens, and more.
Watch the meeting on YouTube to see the entire public comment section.
Superintendent's Report
Dr. Horton shared about the Review and Comment that was recently approved and shared by the Minnesota Department of Education for the April 11 building bond referendum project. The project received a positive review and comment. You can see the review and comment here.
Community member Jim Weintzetl also shared updates on the scholarship program that benefits students of GFW and their parents. The district has an incredibly strong scholarship program that culminates in the annual Evening of Excellence that awards graduating seniors with thousands of dollars in scholarships from the community.
School Reports
GFW Elementary School Principal Jennifer Thompson shared an update on some of the exciting things that have been happening at the school. Recent events and enrichment classes were really well received by students and were the result of the hard work from staff and community members coming together to offer new opportunities for students. She highlighted the team that works at the school including teachers, para professionals, reading corp interventionists, and more.
The school offers the Multi-Tiered Systems of Support (MTSS) framework to provide students who need extra support with intervention support with daily 15-20 minute options for students. A co teaching model that combines special education and general education teachers together to create additional support and opportunities for engagement. Family events have taken place throughout the year with ways for parents to connect with the school and be part of their student's learning.
Literacy coaches also shared about a grant that provides classroom libraries, materials to help with literacy instructions as well as training and professional development for teachers. This includes Learning Essentials for Teachers of Reading and Spelling (LETRS) training as well as resources to support literacy in the community with books to build home libraries and for local daycares. Literacy coaches provide support for best literacy practices to teachers and help them to implement strategies that work for students in the classroom.
Social Emotional Interventionist Melissa Larabee also shared about some of the Social Emotional Learning programs taking place at GFW Elementary. Whole group instruction for each grade level includes focused instructional time, fast paced impactful instruction, real life discussions, and practicing skills based on the curriculum. The ultimate goal for SEL is to make all students feel that they belong to a supportive community while learning self awareness, social awareness, self management, relationship skills, and responsible decision making. These skills are developed through one-on-one, small group, and whole class instruction and helps students work together and develop skills that they will use throughout their life.
While there are some misconceptions about SEL, it is actually a vital part of a well-rounded education and focuses on helping children connect with their emotions, needs, and relationships as they continue their development. Social Emotional Learning is important for students to develop prosocial behaviors such as kindness, friendship skills, empathy, and emotional regulation, as well as build coping strategies and problem solving skills for stressful situations. When students develop positive social and emotional skills, they are better able to get along with others and learn academically. When a student feels safe, supported, and secure, they are better able to participate in classroom activities.
Curriculum Review
Principal Brittany Galetka shared on the curriculum review process that the district has been working on. The Department of Education sets standards for schools and English Language Arts and Science standards have been updated recently. The district then begins a process to identify priority standards and unpack what they mean for students and how to measure success. GFW Public Schools has also gone through a curriculum review process that reviews different options and aligns them to the standards in order to determine the best option.
The group working on curriculum review has identified preferred options for both ELA and science to be adopted for the 2023-24 school year. Amplify was identified as the preferred option for ELA curriculum. Staff was able to participate in training and act as both students and teachers through lessons to learn the ins and outs of the curriculum. The curriculum aligns with science of reading standards and provides multiple levels of support to be able to differentiate lessons for different levels of fluency and ability.
In addition to resources for teachers and students, the new curriculum options also involve hands-on activities, ways to integrate with technology like augmented reality and smart boards, and ongoing professional development so teachers can continue to grow in their craft and implement the material with fidelity. The goal is to provide a rigorous curriculum for students in GFW Public Schools that is able to teach the standards, provide support and enrichment based on student need, and will lead to a curriculum review process that will continue with math and social studies curriculum options being reviewed next as standards are updated.
Board Reports
There were no board reports shared by members.
Consent Agenda
The Consent Agenda was approved by the board.
Resolutions and Action Items
Resolutions and action items were approved by the board including the Foodservice Distributor agreement, and the Achievement and Integration Plan.
Vice Chair Schmidt requested more time to review the curriculum choices before the board takes action to officially adopt them. A motion to table the motion was made, seconded and approved.
The board also voted to accept donations.
The meeting was then adjourned.